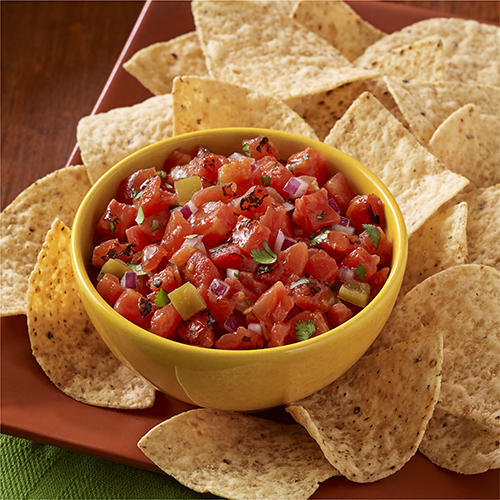 1 Serving
When cutting or seeding hot peppers, wear rubber gloves to prevent hands from burning. We use this salsa as a sauce for pasta and rice, as the basis for crock pot chili, taco meat mixture, etc.. If you like a thicker salsa, drain and discard some of the tomato juice that collects as you chop the tomatoes, or, if you're not canning the salsa, you can add cornstarch to thicken.
Ingredients
10 cups tomatoes in puree peeled, cored, chopped (about 6 pounds)

7 cups green bell peppers seeded, chopped (about 2 1/2 pounds)

5 cups onions chopped (about 1 1/2 pounds)

1/2 to 3/4 cup hot peppers seeded, chopped (about 1/3 pound)

1 1/4 cups cider vinegar

3 cloves garlic minced

2 tablespoons cilantro minced

3 teaspoons salt

1 teaspoon hot pepper sauce (optional)
Directions
Combine all ingredients in a large sauce pot.

Bring mixture to a boil. Reduce heat and simmer 10 minutes.

Pour hot into hot jars, leaving 1/4 inch head space.

Adjust caps.

Process 15 minutes in a boiling water bath.
Category: Sauces and Marinades