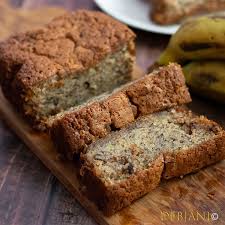 Ingredients
2 cups whole wheat flour

1 tablespoon wheat germ

1 teaspoon baking soda

1/2 teaspoon salt

2 eggs

2 cups ripe bananas

1/2 cup honey

1/4 cup vegetable oil

1 tablespoon lemon juice

1/2 teaspoon vanilla extract

1 cup chopped walnuts
Directions
Measure flour, wheat germ, baking soda and salt into a large bowl.

Stir to blend.

In a bowl of food processor, combine eggs, banana, honey, vegetable oil, lemon juice and vanilla until blended.

Pour over flour mixture.

Add walnuts.

Stir with rubber spatula just until blended.

Pour into a greased and floured 8x5x3" loaf pan.

Bake at 350° until sides pull away from pan and pick inserted in center comes out clean, 45 to 55 minutes. Cool on rack before removing from pan.

Tip:

For a less dense loaf of bread, substitute 1 cup of white flour for 1 cup of whole wheat flour.
Category: Quick Breads and Muffins