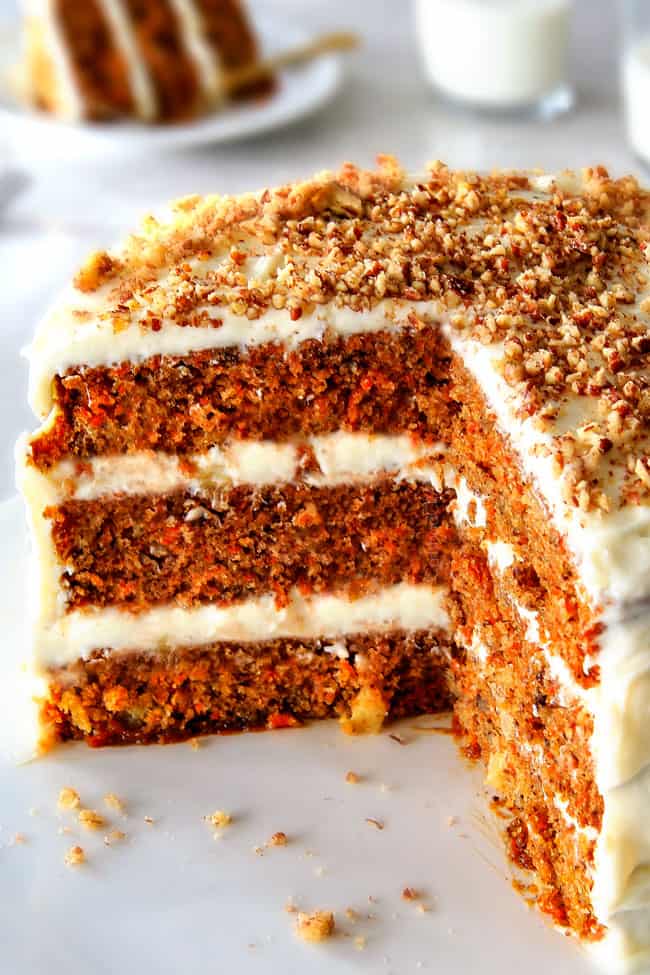 Taste of the Islands Carrot Cake
Ingredients
1 3/4 cups plus

4 tablespoons flour

2 teaspoons baking soda

2 teaspoons cinnamon

1/4 teaspoon salt

1 1/2 cups oil

1 2/3 cups sugar

3 large eggs

4 cups carrots shredded (about 1 pound)

1 cup macadamia nuts or pecans, unsalted, chopped (about 4 oz.)

1/2 cup raisins or currants

{"Pineapple Filling"=>nil}

2 cups diced fresh pineapple

1/2 cup sugar

1/4 cup pineapple juice

2 tablespoons cornstarch

1 teaspoon vanilla extract

{"Cream Cheese Frosting"=>nil}

2 8 oz. packages cream cheese softened

1/2 cup butter softened

1/2 cup powdered sugar

1 teaspoon vanilla extract

1 cup finely chopped toasted, unsalted macadamia nuts or pecans (4 oz)
Directions
Preheat oven to 350°.

Grease one 10x3 inch round cake pan.

Line bottom with circle of parchment or waxed paper.

Grease paper and lightly flour pan.

Sift together 1 3/4 cups plus 2 tablespoons flour, baking soda, cinnamon,. and salt.

In large mixing bowl, combine oil, sugar, and eggs.

With electric mixer, beat at medium speed until light in color, about 3-4 minutes.

At low speed, gradually add flour mixture, beating until smooth.

Combine carrots, nuts, raisins and remaining 2 tablespoons of flour.

Gently fold into batter.

Pour batter into prepared cake pan.

Bake for 20 minutes, then reduce

heat to 325° and bake for 50 to 55 minutes longer, or until toothpick inserted near center comes out clean and surface springs back when gently pressed with finger.

Cool in pan on wire rack for 15 minutes.

Run knife around sides of cake to loosen.

Turn cake out (re-inverting onto another rack) and cool completely, paper side down.

To assemble cake, peel paper off cake.

Using a long serrated knife, slice cake horizontally into three layers.

Remove top two layers (it helps to use cardboard cake circle or a flat cookie sheet to slide under the cut layers and lift off).

Place bottom cake layer on 10 inch cardboard cake circle or serving plate.

Spread pineapple filling over cake layer.

Place middle layer of cake on top of filling and spread with a thin layer of icing.

Place top layer of cake, top side up, on icing.

Spread remaining icing evenly over sides and top of cake.

Press chopped toasted nuts onto sides of cake (if cake is on cardboard circle, press nuts onto cake over wax paper).

Pineapple Filling:

In medium saucepan, combine pineapple and sugar.

Cook over low heat, stirring occasionally, until pineapple is tender, about 15-20 minutes.

Combine pineapple juice and cornstarch, and stir into cooked pineapple;

boil for 1 minute, stirring constantly.

Remove from heat; stir in vanilla.

(can be made a day ahead and chilled, covered in the refrigerator).

Cream Cheese Icing:

In medium bowl, with electric mixer, beat together cream cheese and butter.

Add sugar and vanilla; beat until smooth.
Category: Desserts