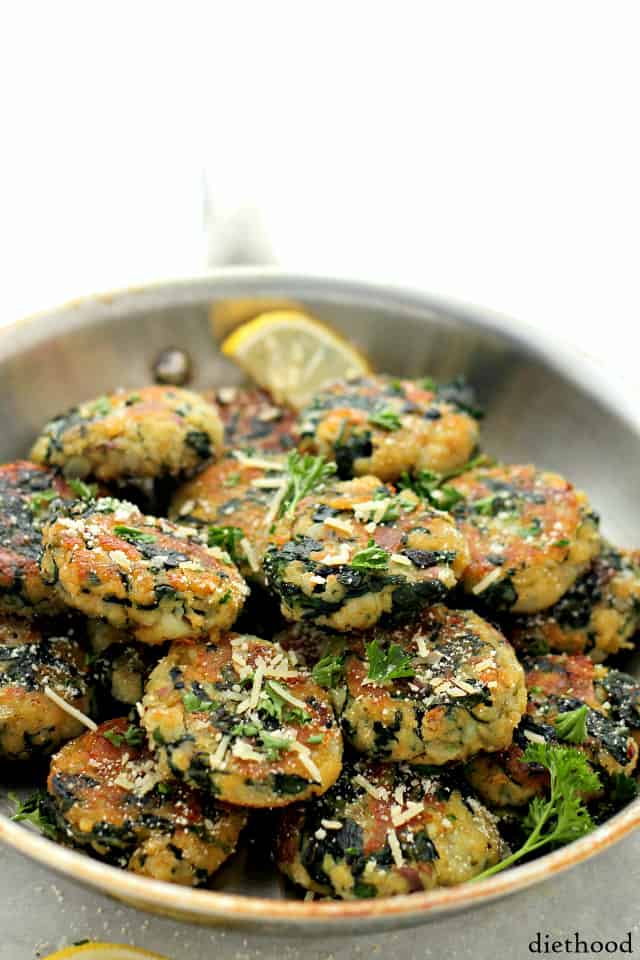 Spinach Cakes with Rosemary and Garlic
Ingredients
1 10 oz. package fresh spinach or 1 10 oz. pkg frozen chopped spinach

4 potatoes medium sized, peeled

1 tablespoon olive oil

1 cup onions diced

2 teaspoons minced garlic

1 1/2 cups unseasoned dry bread crumbs

1 1/2 tablespoons grated Parmesan cheese

1 egg white

1/4 teaspoon kosher salt

1 teaspoon fresh rosemary minced, or 1/2 tsp. dried

pinch of white pepper
Directions
If using fresh spinach, wash the leaves and place in a large pot over high heat.

Cover and cook. stirring occasionally, until leaves are wilted, about three minutes.

Drain and chop coarsely. If using frozen spinach, place in a strainer and squeeze to remove excess water.

Meanwhile, place potatoes in a large pot of water.

Bring to a boil over high heat and cook 15 minutes or until almost tender.

drain; set aside.

When cool enough to handle, grate potatoes or put through a ricer.

In a large bowl combine spinach and potatoes.

Heat 1 tablespoon olive oil in a medium non-stick skillet over medium heat.

Add onions and garlic.

Saute three to five minutes, or until light brown and softened.

Cool slightly and add to spinach mixture.

Add bread crumbs, cheese, egg white and seasonings.

Combine well.

Use 1/4 cup of the mixture to form a small patty that is 1 inch thick.

Repeat until all mixture is used.

Wipe out skillet and return skillet to medium heat.

Brush with additional olive oil and place patties in pan without crowding.

Cook 5 to 6 minutes making sure center is heated through.

Repeat until all patties are cooked.
Category: Vegetables