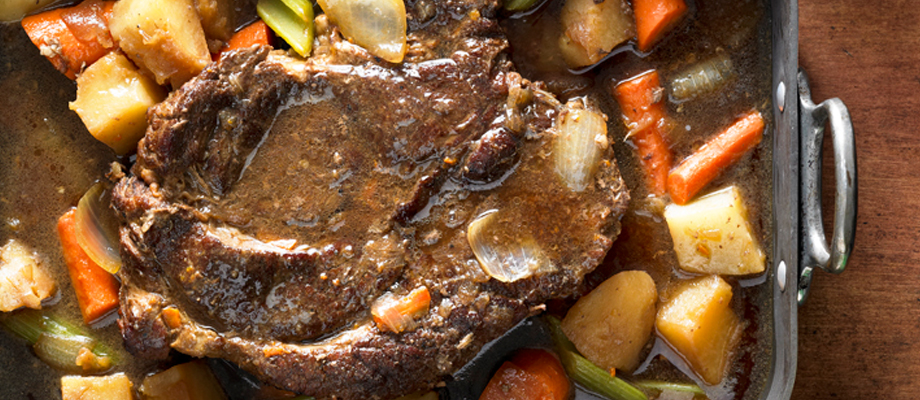 Savory Slow-Cooked Chops or Beef
4 Servings
This recipe may be made with 4 pork chops, 4 lamb chops, 4 veal chops, or 1 chuck steak cubed.
Ingredients
4 pork chops or chuck steak

salt and pepper

1/2 cup marsala

1/2 cup water

2 bouillon cubes, beef

2 large onions sliced

2 tablespoons olive oil

1 clove garlic halved

6 carrots peeled and chunked

6 small potatoes quartered

1 6 oz. can mushrooms drained

1 packet brown gravy mix
Directions
Brown meat and garlic in olive oil in Chef's Pot heated to 350°.

Sprinkle meat with salt and pepper.

Remove garlic and excess fat.

Add marsala and bouillon cubes dissolved in hot water.

Cover and lower to 200 and cook 45minutes.

Add onions, carrots and potatoes and drained mushrooms.

Sprinkle with salt and pepper. Cover and cook at 200° for 45 minutes more.

Check.

If vegetables and meat are not tender, raise temperature to 250° and check again in 15 minutes.

When vegetables and meat are tender sprinkle 1 packet of brown gravy over all and 1 cup of water (add more if needed).

Stir until thickened.

Let simmer 1 minute

more, then serve.
Category: Meats