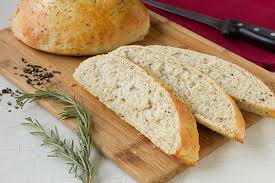 1 Serving from "Bread Machine Baking" by Lora Brody
I prefer to make this on a large cookie sheet. Roll out dough and place on cookie sheet. Brush with extra-virgin olive oil mixed with 2 cloves of garlic (crushed), and more rosemary. Sprinkle with coarse Kosher salt. Allow to rise to double bulk. Bake at 350° for 20 to 30 minutes.
Ingredients
1 tablespoon yeast

1/2 cup quick cooking rolled oats

1/4 cup cornmeal

3 cups bread flour

1 teaspoon salt

1 1/2 teaspoons black pepper

2 tablespoons fresh rosemary or 1 tablespoon dried rosemary

2 tablespoons honey

2 tablespoons olive oil

4 tablespoons instant nonfat dry milk

1 cup water plus 1 tablespoon
Directions
Have all ingredients at room temperature.

Place all ingredients in the machine, program for White Bread, and press start.
Category: Yeast Breads