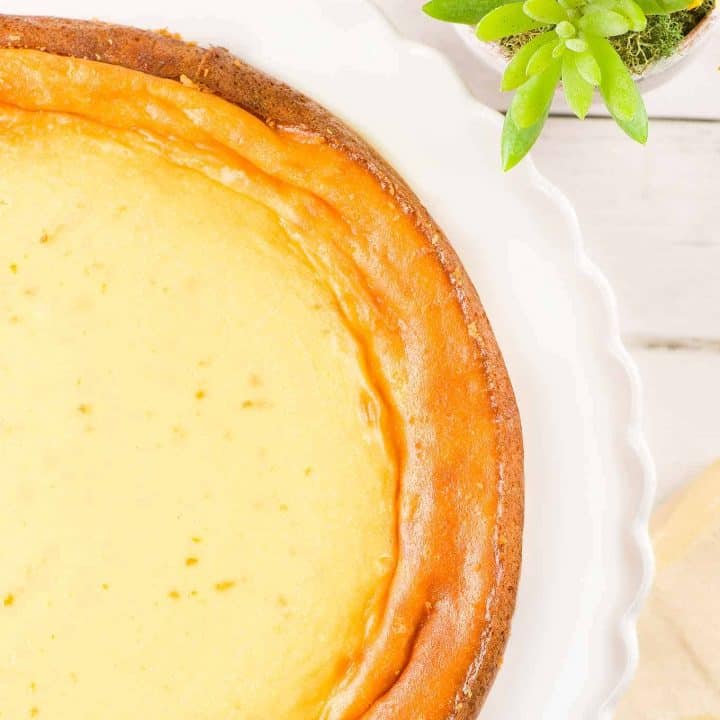 18 Servings
If you prefer a deeper dish filling (more filling), make one of the pies a shallow 8" pie, but do not add filling higher than the crimp of the crust or it will overflow when cooking.
Ingredients
3 pounds ricotta cheese

1/3 cup flour

3/4 cup oranges and lemon rind (about 3 lg. each) chopped fine

2 tablespoons vanilla

6 large eggs

1/2 teaspoon salt

1 1/2 cups sugar
Directions
Orange and lemon rind:

Using a zester or sharp potato peeler, carefully skin (after scrubbing the skin carefully and drying), grabbing just the rind and none of the white (which is bitter).

Put a few of the skins in the blender and turn on low.

While blender is going, feed rest of rinds into the top of feeder, until all the rinds are chopped fine.

You can also use food processor for grating the rinds.

Place ricotta cheese, flour, and orange/lemon rinds in large bowl.

Blend together.

Add vanilla and blend.

In a small bowl whip eggs and salt until foamy.

Gradually stir in sugar and beat until it holds soft peaks and granulation of sugar is dissolved.

In a large bowl mix ricotta with flour and orange and lemon rinds until blended.

Add egg mixture to ricotta mixture and fold together.

Partially bake three deep dish pie shells (must be deep dish) which have been punctured with fork to prevent bubbling.

Bake only until pie shell is cooked, not browned, 2-4 minutes in a 400° oven is usually sufficient.

Lower temperature of oven to 350°.

When shells are cool, pour mixture into the three pie shells.

Bake for 50-60 minutes or until brown and set.
Category: Desserts