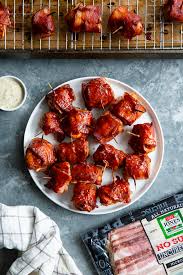 Quick and Zesty Chicken Barbecue Bites
4 Servings (cooked in pan)
Ingredients
2 boneless chicken breasts or boneless thighs, cut in bite size pieces

1 teaspoon garlic powder or 2 teaspoons chopped garlic

salt and pepper to taste

cayenne pepper or red pepper (optional)

1/2 cup of your favorite barbecue sauce
Directions
Pam a pan generously, heat and add chicken pieces.

Sprinkle with garlic, salt and pepper.

Brown.

Add barbecue sauce and let simmer on low stirring very often, approx.

15 minutes.

Keep adding water so that chicken won't burn, a little at a time.

In the last few minutes (if you like that very browned barbecue look and flavor), don't add the water and let pieces brown.
Category: Poultry