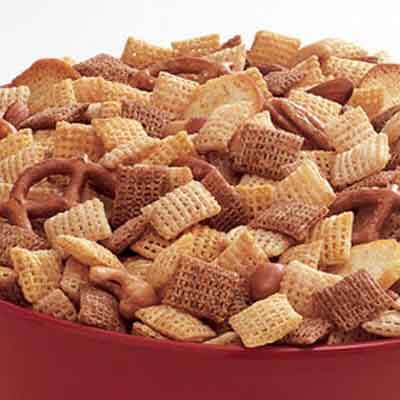 Ingredients
1/4 cup margarine or butter melted

4 1/2 teaspoons Worcestershire sauce

1 1/4 teaspoons Lawry's seasoned salt

8 cups of your favorite Chex cereal

(Corn Wheat and/or Rice)

1 cup salted peanuts or mixed nuts

1 cup pretzels
Directions
Combine margarine, worcestershire sauce and seasoned salt;

mix well.

Pour cereals, nuts and pretzels into large Glad-lock Zipper bag.

Pour margarine mixture over cereal mixture.

Seal to of bag securely.

Shake bag until all pieces are evenly coated.

Pour contents of bag into a large microwave-safe bowl.

Microwave on HIGH 5 to 6 minutes, stirring thoroughly every 2 minutes.

While stirring, make sure to scrape sides and bottom of bowl.

Spread on absorbent paper to cool.

Store in airtight container.

Conventional oven method:

Preheat oven to 250°.

Combine ingredients in Zipper bag as above.

Pour contents of bag into open roasting pan.

Bake 1 hour, stirring every 15 minutes.

Cool and store as directed above.
Category: Appetizers and Snacks