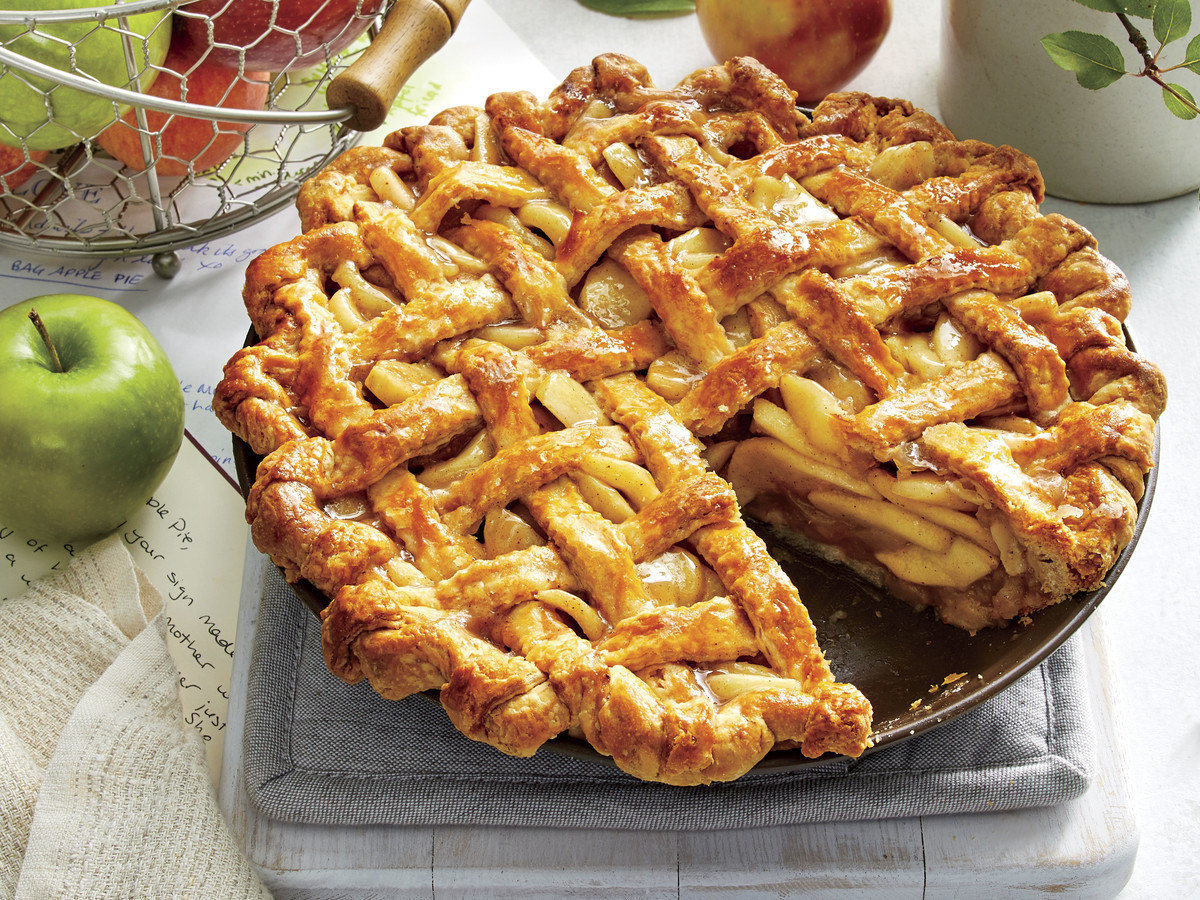 No Fail Old-Fashioned Apple Pie
Ingredients
2 cups all-purpose flour sifted

1 teaspoon salt

3/4 cup shortening

4 to 5 tablespoons ice water

1 egg yolk

{"Apple Filling"=>nil}

1 cup sugar

1 teaspoon cinnamon

1/4 cup all-purpose flour sifted

dash salt

3 pounds tart apples Greenings, Rome, or Cortland are best

2 tablespoons butter or margarine
Directions
Make Flaky Pastry: Sift the flour with salt into a medium bowl.

With a pastry blender or 2 knives, cut in shortening until mixture resembles course cornmeal.

Quickly sprinkle ice water, 1 tablespoon at a time, over flour mixture, tossing it lightly with a fork after each addition and pushing dampened portion of the mixture to the side of the bowl.

(Pastry should be just moist enough to hold together, not sticky).

Shape into a ball;

halve; flatten each half.

Place one half of pastry between two sheets of waxed paper.

On dampened counter top (this prevents paper from slipping), roll out pastry to an 11-inch circle, rolling from center out to the edge and alternating direction with each stroke.

Repeat with other half.

Refrigerate pastry circles, still between paper, for 30 minutes (or freeze for 10 minutes).

Preheat the oven to 425°.

Make apple filling:

In a large bowl, combine the sugar, cinnamon, flour and salt;

mix well.

Pare, quarter, core, and slice apples.

(Apple slices should measure at least 7 cups).

Add apples to the sugar mixture and toss lightly.

For bottom crust of pie: Peel off top waxed paper form one pastry circle.

Invert pastry into a 9-inch pie plate.

Peel off other paper.

Carefully fit pastry into pie plate, pressing toward center. Turn the apple mixture into pie plate, mounding it in the center.

Dot the filling with butter.

Trim edge even with pie plate, if necessary.

Peel off top sheet of waxed paper from remaining pastry circle.

Make several slits for steam vents.

Invert pastry over filling; peel off paper.

Fold top crust under bottom crust;

press together to seal.

Crimp edge decoratively.

To glaze crust, beat the egg yolk with 1 tablespoon water.

Brush mixture over top crust with pastry brush.

Bake pie 45 to 50 minutes, or until the apples are tender and the crust is golden brown.

Cool the pie partially on wire rack.

Serve was, with Cheddar cheese or ice cream, if desired.
Category: Desserts