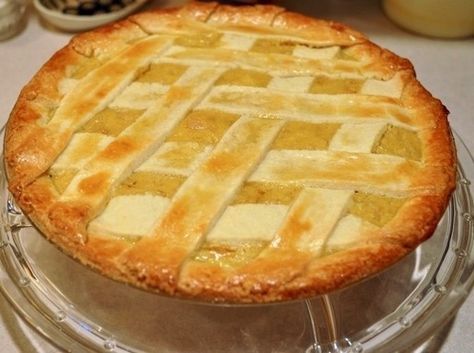 6 Servings Pizza Grana *This is the recipe from Dom DeLuise's book. Does anyone have the Caliendo recipe for Pizza Grana?
Ingredients
2 1/2 cups flour sifted

2 1/2 cups sugar

8 eggs

1/3 cup shortening

2 teaspoons vanilla

grated rind of 1 lemon (yellow part only)

grated rind of 1 orange (orange part only)

3 pounds ricotta cheese

1 cup cooked wheat grain (wheat grain may be found in health food stores)
Directions
First make the pie crust by blending together flour and shortening.

Add 1/2 cup sugar, 2 eggs, 1 teaspoon vanilla and orange and lemon rind.

Blend well and roll flat on a floured cutting board.

Place in a 10x13x2 inch baking pan and set aside.

To make filling, separate remaining 6 eggs and beat egg whites until they form soft peaks.

Set aside.

Beat egg yolks well and add 1 teaspoon vanilla, ricotta cheese, 2 cups sugar, and grain.

Blend well and slowly fold in egg whites.

Carefully pour into pie crust and bake at 400° for 10 minutes.

Reduce heat to 350° and bake 40 minutes more until light and golden brown.
Category: Desserts