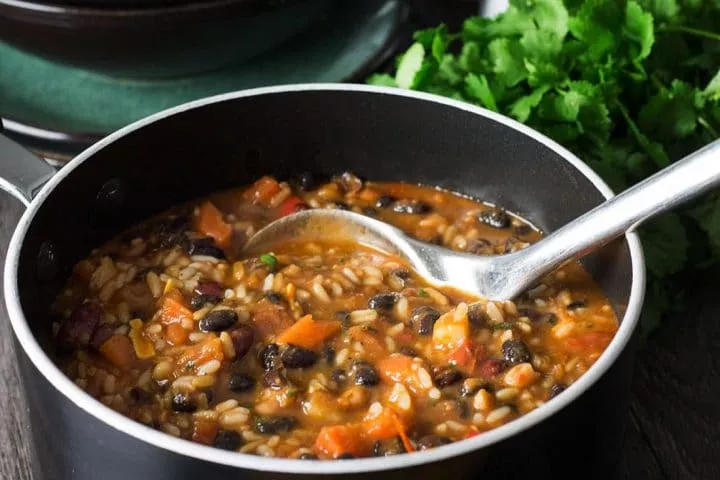 Mexican Rice and Bean Soup
4 Servings
You can add the rice to the crock pot along with the 1 cup of water when you add the rest of the ingredients. The rice becomes very soft, so I prefer to cook it separately.
Ingredients
1/2 cup onions chopped

1 hot pepper (cayenne or jalapeno) minced

1/3 cup green bell peppers chopped

1 clove garlic minced

1 tablespoon oil

4 ounce package sliced dried beef

1 19 oz. can tomato juice

1/2 cup water

1 15 oz. can pinto beans or chili beans

1 teaspoon paprika

1 tablespoon chili powder

1/2 teaspoon salt

1/4 teaspoon pepper
Directions
Cook onion, peppers, and garlic in oil (I chop the vegetables in a mini-food processor to chop very fine).

Transfer to crock pot.

Cut beef into strips and add to pot.

Add tomato juice, water, undrained beans, paprika, chili powder, salt and pepper.

Stir to mix.

Cook on low 4 to 6 hours.

Toward the end of the cooking time, cook 1/2 cup of rice in 1 cup of water and 1/2 teaspoon of salt.

Stir into crock pot and cook another 5 to 10 minutes.
Category: Soups