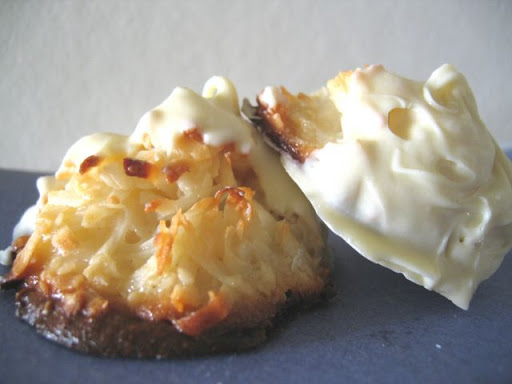 Ingredients
2 eggs

1/8 teaspoon salt

3/4 cup sugar

1/2 cup flour

1 tablespoon butter melted

2 cups flaked coconut

1 6 oz. package semisweet chocolate chips

1 teaspoon lemon rind grated (or orange)

1 teaspoon vanilla
Directions
Beat eggs and salt until foamy.

Gradually add sugar;

continue beating until thick and ivory colored, 5 to 7 minutes.

Fold in flour and butter.

Stir in coconut, chocolate chips, lemon rind, and vanilla.

Drop dough by rounded teaspoonfuls onto lightly greased and floured cookie sheets.

Bake at 325° for 12 to 15 minutes until delicately browned.

Cool 1 minute; remove from cookie sheet.
Category: Desserts