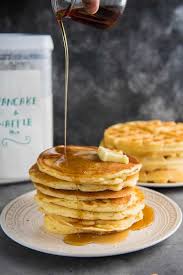 Light and Delicious Waffles (and Pancakes)
4 Servings
You can put sugar in the batter, but that makes the waffles brown faster. Actually, the sugar makes the waffles crispier on the outside as some people prefer. It's a matter of taste.
Ingredients
2 cups Bisquick baking mix

1 egg

1/2 cup oil

1 1/3 cups club soda

3 packets sugar substitute *(optional - if you like a sweeter waffle)
Directions
This batter can't be stored.

All the batter must be used up, so make all your waffles and if you have leftovers

place in the refrigerator or freezer until needed. I always like to make extra waffles.

Heat waffle iron and spray with Pam (need only be done in the beginning).

Mix all ingredients only until moistened and large lumps are gone. Batter will not be smooth. Ladle onto hot iron.
Category: Breakfast Foods