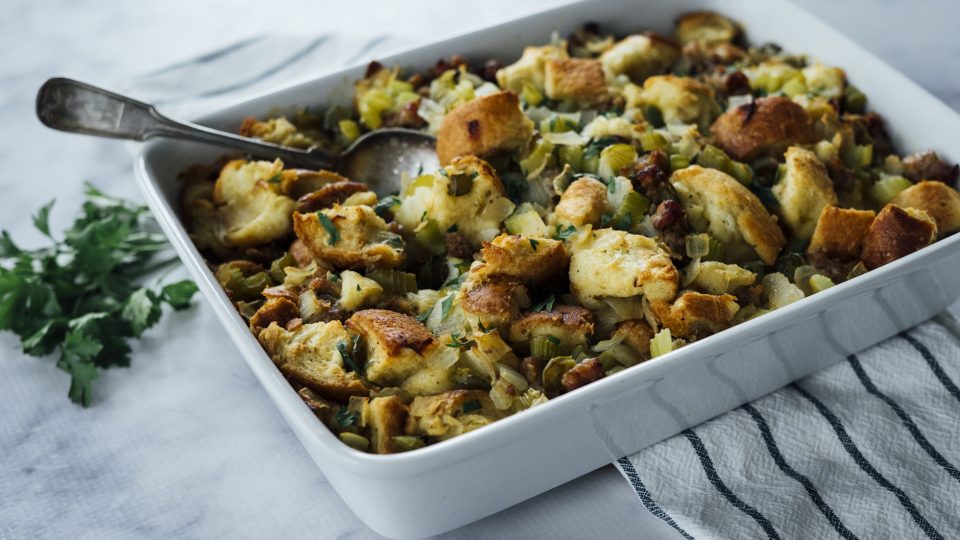 Holiday Sausage Stuffing Recipe
Ingredients
1 16 oz. package stuffing cubes herb flavored

1 pound pork sausages roll package, sage or country flavor

1 cup butter (3/4 cup for stuffing - 1/4 cup for basting turkey)

2 cups celery chopped

2 cups onions chopped

2 tablespoons fresh parsley minced

2 eggs slightly beaten

2 cups chicken bouillon or turkey stock

1 cup pecans coarsely chopped

1 to 2 apples peeled and chopped (optional)
Directions
Saute celery, onion and parsley in 3/4 cup butter or margarine.

Cook sausage, drain, and add to celery mixture.

Mix stuffing mix, stock and eggs.

Toss lightly until ingredients are completely moistened.

Spoon into neck and body cavity of an 18 to 24 pound turkey.

Rub turkey with 1 tablespoon lemon juice and 1/4 cup of melted butter.

Stuffing can also be baked separately in a covered casserole for 30 minutes at 350°.
Category: Poultry