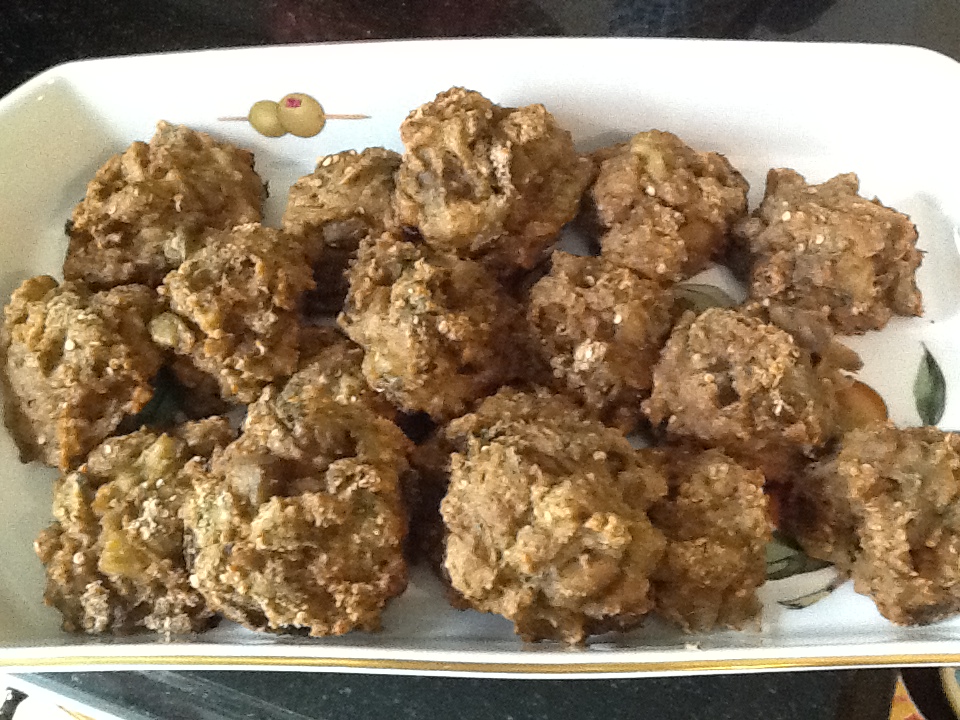 Father Orsini's Eggplant Balls
4 Servings From"Eat This…It'll Make You Feel Better" by Dom Deluise
Ingredients
3 tablespoons olive oil

3 cloves garlic

1 large eggplant peeled and diced

1 tablespoon water

1 cup Italian bread crumbs

1/2 cup fresh parsley chopped

2 eggs beaten

1/2 cup Parmesan cheese

olive oil

marinara sauce if desired

grated mozzarella if desired
Directions
In a large saucepan, heat oil and gently saute garlic until golden brown.

Add diced eggplant, the tablespoon of water, and cover.Reduce heat and gently steam until eggplant is very soft.

In a mixing bowl combine eggplant, bread crumbs, parsley, eggs and cheese.

Mix well and let stand about 20 minutes.

Form into balls and fry on all sides in olive oil.

Or, place eggplant balls on greased pan, and bake in the oven for 30 minutes at 325°.

They can be covered with marinara sauce and sprinkled with grated mozzarella or drop them in spaghetti sauce and serve in place of meatballs.
Category: Vegetables