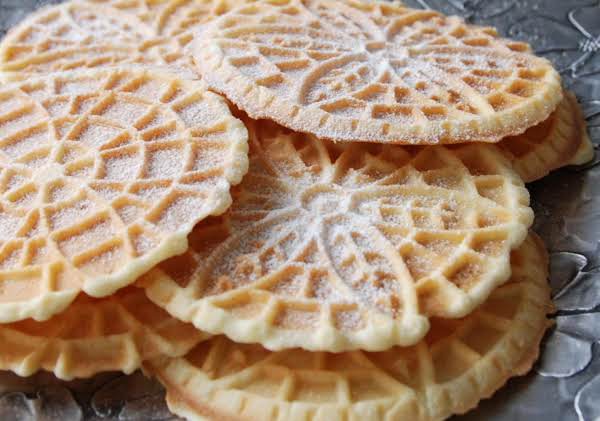 Ingredients
6 eggs lightly beaten

2 cups sugar

1 cup butter or margarine melted

3 cups flour sifted

2 teaspoons baking powder

4 teaspoons vanilla

3/4 cup milk

2 tablespoons anise essence

2 tablespoons anise seeds

1 teaspoon salt
Directions
Beat ingredients together with wire whip or hand beater, beginning with eggs and adding each successive ingredient, sifting flour and powder together, right into the mixture,, a little at a time.

Mix well with each ingredient.

Let stand 10 minutes while pizzelle iron is heating.

Set thermostat on Hi and preheat with lid closed until the signal goes off.

If batter has thickened, add milk until the consistency of pancake batter.

Put a tablespoon of mix on the center of each design and close lid and latch immediately.

Bake about 1 minute, remove with a fork and allow to cool on paper towel.

Sprinkle with powdered sugar.

May be stored for 2 weeks in air tight container.
Category: Desserts