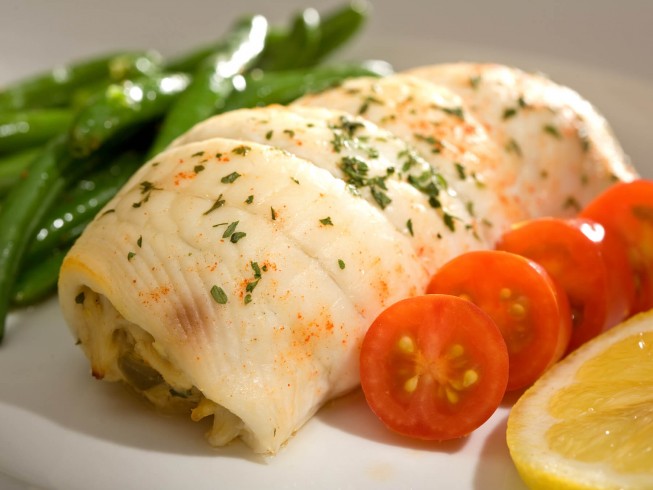 Crabmeat Stuffed Flounder Fillet
Ingredients
6 to 8 pieces flounder fillets (approx. 3/4 to 1 pound)

1 6 1/2 oz. can crab meat drained and flaked

1 6 1/2 oz. can mushrooms stems and pieces

1/4 cup dry vermouth or dry white wine

1/2 onion

1/3 cup bread crumbs

1 tablespoon parsley

1/2 teaspoon oregano

1/4 teaspoon garlic powder

1 10 3/4 ounce can cream of mushroom soup
Directions
Place 1/2 can of mushrooms, vermouth, and onion in blender.

Puree.

Add this mixture, crab meat, bread crumbs, parsley, oregano, garlic, and 1/3 can of soup.

Mix thoroughly.

Place generous amount of crab meat stuffing on fillets.

Divide stuffing equally.

Roll each fillet, tie with toothpick (it will look like cannoli).

Pam deep frying pan and place rolled fillets in pan.

Mix remaining mushrooms with the rest of the soup, adding enough mushroom liquid to thin to just barely pouring consistency.

Spoon soup over fillets.

Cover pan and cook approx.

3-5 minutes or it can be cooked in the oven for about 15 minutes at 350°.

Serve hot.
Category: Seafood