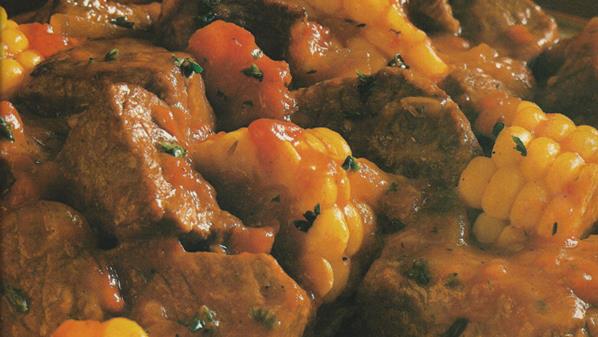 Ingredients
1 1/2 to 2 pounds stew meat cut in cubes

2 to 3 tablespoons oil

salt and pepper

1 small onion chopped

1 cup celery and leaves, chopped

2 to 3 tablespoons parsley chopped (fresh or dried)

1 teaspoon paprika

1 4 oz. can mushrooms sliced

2 16 oz. cans French style green beans

Italian dressing
Directions
Sprinkle beef with salt and pepper.

Brown well in oil in pressure cooker.

While the meat is browning, add onion, celery

and

parsley

mixing well.

Sprinkle with paprika, then add fluid from the cans of drained mushrooms and green beans, saving one cup fluid.

Cover and cook 15 minutes.

Uncover and add mushrooms.

Stir 2 - 3 tablespoons flour into liquid remaining.

Add this to the cooked beef and stir over medium heat until thickened.

Serve over cooked noodles.

Refrigerate green beans for 2 -3 hours.

Make Italian dressing, to which you add 1 teaspoon paprika.

Pour over green beans and refrigerate again until ready to eat.

Serve as a green bean salad with the Continental Beef.
Category: Meats