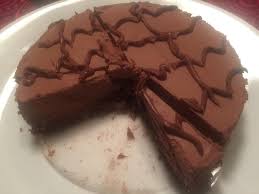 Ingredients
2 egg whites

1/3 cup sugar

2 tablespoons flour

1 3/4 cups shredded sweetened coconut

{"Cake"=>nil}

1 package chocolate cake mix

1 package instant chocolate pudding and pie filling

2 eggs

2 egg yolks

1 1/4 cups water

1/3 cup oil

{"Glaze"=>nil}

1 tablespoon milk

1 cup powdered sugar sifted
Directions
Beat egg whites until foamy.

Gradually add sugar and beat until mixture forms stiff shiny peaks.

Blend in flour and coconut; set aside.

Combine remaining ingredients in large mixer bowl.

Blend; then beat at medium speed for 2 minutes.

Pour 1/3 of the batter into greased and floured 10" bundt pan.

Spoon in coconut mixture and top with remaining batter.

Bake at 350° for 50 to 55 minutes or until cake tester inserted in center comes out clean.

Cool

in pan about 15 minutes.

Remove from pan and finish cooling on rack.

Top with glaze. To make glaze, gradually add 1 tablespoon (about) to the powdered sugar in a bowl.

Makes about 1/3 cup.
Category: Desserts