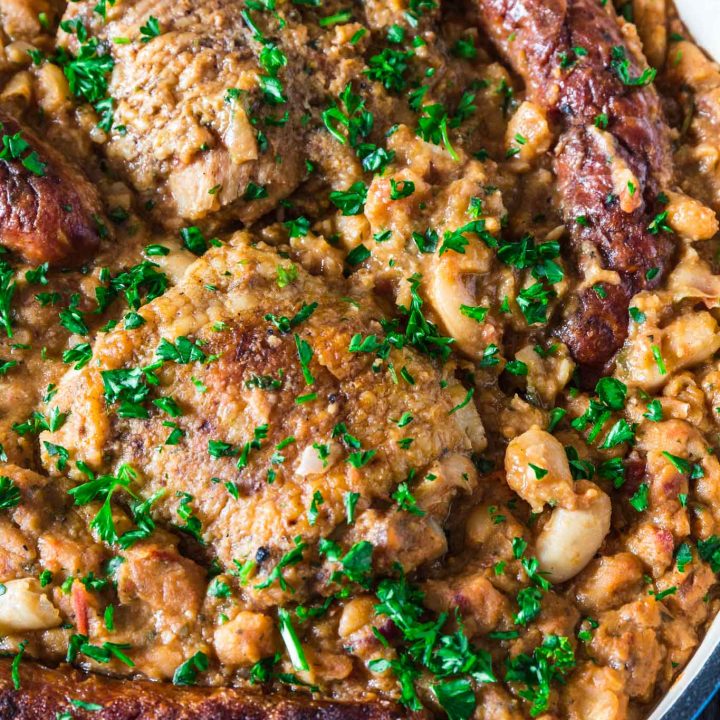 Chicken and Sausage Cassoulet
1 Serving crock pot recipe This recipe takes a little more time than most other crock pot recipes, but its worth the time, and a wonderful meal for company with a crusty loaf of bread.
Ingredients
1 1/4 cups dry navy beans

1/2 pound bulk pork sausage

2 to 3 pounds whole chickens cut up

1/2 cup carrots finely chopped

1/2 cup celery chopped

1/2 cup onions chopped

1 1/2 cups tomato juice

1 tablespoon Worcestershire sauce

2 teaspoons bouillon beef flavored

1 teaspoon salt

1/2 teaspoon basil crushed

1/2 teaspoon oregano crushed

1/2 teaspoon paprika
Directions
In Advance: Cook navy beans for 1 1/2 hours.

Pour beans and liquid in bowl.

Refrigerate over night.

Shape sausage into 18 balls; brown in skillet.

Remove meatballs; reserve drippings.

Cover meatballs; refrigerate over night.

Sprinkle chicken with salt and pepper;

brown in drippings.

Remove chicken.

Cover and refrigerate over night.

Before serving:

In crock pot, place chicken, meatballs, carrot, celery

and onion.

Drain beans;

mix with remaining ingredients.

Pour over meat.

Cover and cook on low 8 hours.

Remove chicken and meatballs.

Mash bean mixture slightly.
Category: Poultry