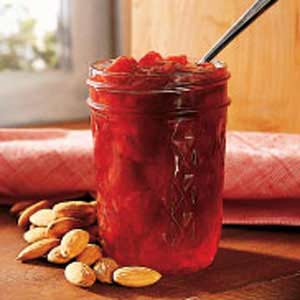 Ingredients
3 12 oz. packages frozen sweet cherries thawed and drained

3/4 cup almond liqueur

3 tablespoons lemon juice

1 package powdered pectin

4 1/2 cups sugar
Directions
Grind or finely chop cherries.

Combine cherries, almond liqueur and lemon juice in a large sauce pot.

Stir in powdered pectin.

Bring to a rolling boil.

Add sugar and return to a rolling boil.

Boil hard 1 minute, stirring constantly.

Remove from heat.

Skim foam if necessary.

pour hot into hot jars, leaving 1/4" head space.

Adjust caps.

Process 10 minutes in boiling water bath.
Category: Potpourri