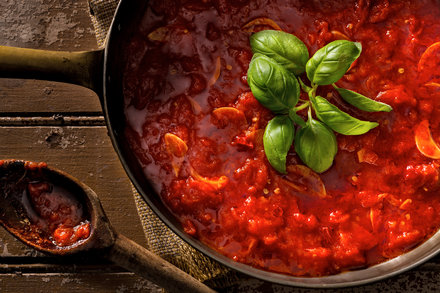 Ingredients
2 28 oz. cans crushed tomatoes

1 6 oz. can tomato paste for a thicker sauce

1/3 cup olive oil

1 small onion sliced

1/2 teaspoon garlic minced

1 teaspoon basil

1 tablespoon parsley

1 teaspoon Italian seasoning

1 teaspoon oregano

1/8 teaspoon crushed red pepper optional

1/2 teaspoon black pepper

1 to 1 1/2 teaspoons salt

6 ounces burgundy wine
Directions
Heat oil in large pot.

Add onion, and garlic until lightly browned.

Then add basil, parsley, Italian seas., oregano, red and black pepper and salt.

Then add tomatoes, paste and one paste can of hearty burgundy wine.

Let come to a boil and simmer 45 minutes, stirring occasionally, scraping the bottom of the pot.

You may add to basic marinara sauce:

tuna fish, clams, crabs, lobster tails, mussels, calamari.

Note: For crab sauce: cook basic sauce for 30 minutes.

Place cleaned crabs in sauce and cook 15 minutes more (or until crabs are cooked).

A unique flavor!
Category: Pasta, Sauces, Rice, and Grains