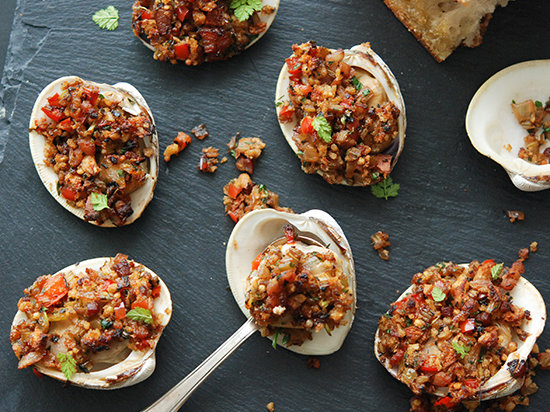 Ingredients
1/2 stick butter or margarine

1 teaspoon garlic minced, or more to taste

1 1/2 cups seasoned bread crumbs Italian flavored

1 teaspoon oregano

2 tablespoons Parmesan cheese

2 tablespoons dry vermouth

2 tablespoons parsley

2 6 1/2 oz. can clams minced

2 10 3/4 ounce can clams baby whole
Directions
Melt the margarine in large pot or pan.

Lightly brown the garlic in it.

Drain the clams, reserving liquid.

Add rest of the ingredients above, including clams (not the juice).

If still dry, add only enough clam juice to moisten.

It will not take much.

Save the remaining liquid for clam chowder.

Press into aluminum clam shells.

Dot top with olive oil or melted butter.

Bake in hot oven, 400° for approx. 10-15 minutes or until lightly browned.

Don't overcook.
Category: Appetizers and Snacks