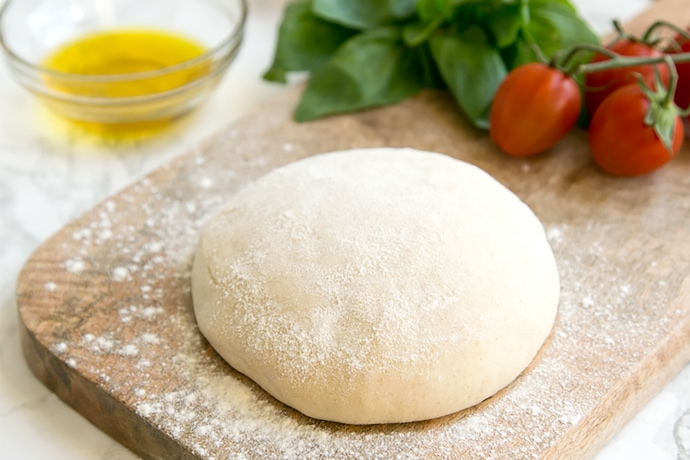 Ingredients
3/4 cup warm water (not hot!)

1/2 teaspoon sugar

1 envelope yeast

3 tablespoons oil (5 tablespoons if a crispier crust is desired)

1/2 teaspoon salt

2 to 2 1/2 cups flour
Directions
Grease bowl.

Set aside.

In a medium bowl, stir together water and sugar.

Sprinkle yeast over the surface.

Mix and let stand 5 minutes until foamy.

Stir in 2 cups of flour.

Move to a floured board and knead in more flour (the remaining 1/2 cup), until dough is not sticky.

Knead about 2 or 3 minutes.

Place in oiled bowl.

Cover and let rise until double in bulk.

When risen, roll out on floured board to shape of round pizza (large one).

Brush oil over surface with pastry brush (so it won't bubble up too much).

Bake at 425° for 10 minutes until under side is lightly browned.

Remove from oven and put tomato sauce and cheese etc.

Put back in the oven and bake until cheese melts and under side is brown - about another 10 or 15 minutes.
Category: Yeast Breads