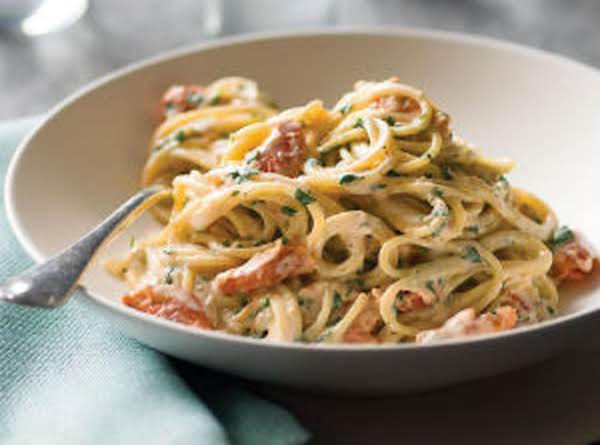 Angel Hair Pasta with Tuna and Sun-dried Tomatoes
Ingredients
1/4 to 1/2 cup olive oil

1/2 pound angel hair pasta

5 to 6 sun-dried tomato halves in oil chopped

2 tablespoons parsley chopped

1 to 2 cloves garlic chopped

1 6 1/2 oz. can tuna fish (packed in water) flaked

6 to 7 capers
Directions
Sauce:

Saute garlic in olive oil on medium heat.

Add capers, sun-dried tomatoes, parsley, and flaked tuna.

(If you want to loosen sauce, add more olive oil.

Boil pasta until "al dente" (not too soft or overcooked).

As you drain, conserve some of the water.

This keeps pasta moister and adds to the sauce.

Place in bowl and add sauce.

Sprinkle each dish with Parmesan cheese.

To make sun-dried tomatoes in oil:

Buy package of sun-dried tomatoes.

Boil briefly in water according to directions on package.

Drain.

Place tomatoes in large bowl.

Add 2 garlic cloves, chopped, 3 tablespoons fresh parsley (or dried), and some pepper to taste (no salt), 3 tablespoons of fresh basil (optional).

Mix all together.

Place all in a large mason jar or container.

Cover with oil.

Place in refrigerator until needed.

(put just enough oil to cover the ingredients).
Category: Pasta, Sauces, Rice, and Grains